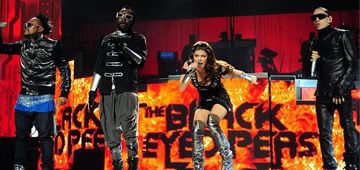 A  2ª etapa da nova turnê do Black Eyed Peas, a The E.N.D. World Tour, começa a ter mais datas divulgadas.
A banda acaba de confirmar presença no Halifax Commons, evento a ser realizado dia 24 de julho no "Halifax's World Trade and Convention Centre".
Outro show recentemente confirmado será no Rogers Bayfest, em Sarnia, no dia 18 de julho.

Falando em concertos, foi publicado na imprensa um rank com o Top 20 dos shows mais lucrativos nos Estados Unidos, e a The E.N.D. World Tour ocupa o sexto lugar, confira os números:
1. (New) Bon Jovi; $1,887,358; $96.97.
2. (1) Eric Clapton; $1,366,928; $101.49.
3. (2) Jay-Z; $1,023,972; $83.25.
4. (3) Michael Buble; $930,295; $81.39.
5. (New) Taylor Swift; $899,220; $58.36.
6. (4) The Black Eyed Peas; $815,430; $62.79.
Via: Blackeyedpeas.com.br